On the 30th of January, Managing Solicitor of MLRC, Rebecca Keatinge presented at 'Securing the Right to Housing' Conference which was organised by the Raise the Roofcampaign. The Raise the Roof campaign encompasses and brings together trade unions, political parties, student unions, housing agencies and community groups to demand radical action on the housing crisis.
The conference focused on an array of topics related to the housing crisis, including government policy, the need for public housing, the human cost of the emergency and securing a legally protected right to housing.
Speaking on Government Policy, architect Mel Reynolds noted how an increase in supply in housing in Ireland will not drive down prices. He noted that housing prices continue to rise with the average price of a property in Dun Laoghaire coming in at €500,000. However, the most startling of Mel Reynolds' findings was that the local authority owns 8884 hectares of land in Ireland, which could be used to develop housing. This is approximately five times the total reported in Rebuilding Ireland. Orla Hegarty, Assistant Professor at UCD echoed these sentiments and noted that the key thing to solving the crisis will be enabling 'people to meet housing need from their own resources'.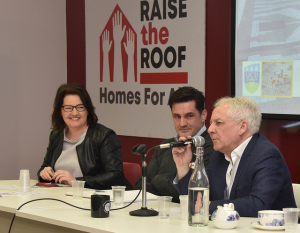 Tony Fahey, Professor Emeritus, School of Social Policy, Social Work and Social Justice UCD addressed the myth that social housing can only be developed through mixed tenure development. Tony Fahey presented research that confirms that the large social housing schemes embarked on in the 1970s and 1980s in Ireland have been in the main a success. He noted that vibrant communities have developed in areas of large social housing developments and the housing stock in those areas is now desirable and valuable.
With regard to the human cost of the housing crisis, Tanya Ward, CEO of Children's Rights Alliance noted that homelessness should be an exceptional and rare occurrence but for many children in Ireland it is an everyday reality. Most children in Ireland spend an estimated one and a half hours to get to school, with the children lacking in sleep and proper subsistence. Unfortunately, MLRC witnesses the reality of this on a daily basis in our casework, with a number of families who present to us residing in wholly unsuitable emergency accommodation. The schools are often very supportive of these children and offer a fundamental role in keeping some normality.
On presenting on the Right to Housing, our Managing Solicitor addressed four key questions which regularly arise in discussion of the right to housing:
What does the right to housing actually mean and where does it come from?
What is the position domestically in relation to protection of the right to housing?
What would the right to housing do in practice?
Would Ireland be out of step with other countries in protecting the right?
Rebecca reported that Ireland is well-covered in its international commitments to protect the right to housing, however these are not reflected in domestic legislation. Rebecca gave examples of how the absence of a legally protected right impacts in the cases MLRC deals with, such that homeless families do not have any entitlement to emergency accommodation. She reported that lawyers dealing with these cases are obliged to rely on rights around the edges, for example protections of the right to family life, in the absence of any clear protection of the right to housing.
Rebecca concluded by highlighting that there is an overwhelming public support for protection of the right to housing in Ireland. In 2014, the Constitutional Convention voted overwhelmingly, 84%, in favour of protecting the right to housing in the Constitution. Furthermore, in a survey undertaken by Irish Human Rights and Equality Commission in December 2018, 82% of people believed that housing should be considered as a human right, and 63% believe that this right should be in the Constitution.
Rebecca reported that to date, the Government has not taken any substantive action on the recommendations put forward by the Constitutional Convention. MLRC contends that the right to housing in our Constitution would be a positive, strong step for the future to create enduring fundamental protection of home for every adult and every child. It would act as a fundamental safeguard against the recurrence of this gravely unacceptable housing crisis. The right to housing in our Constitution would put in place a basic protection in recognition that a home is central to the dignity of each and every person and a foundation of every person's life.
All photos with credit to John Chaney and Irish Congress of Trade Unions.